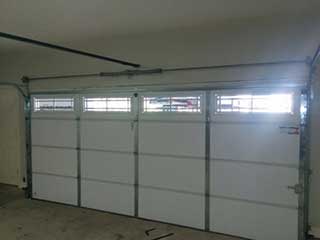 The garage door is an essential part of every home. A large moving part of your house is allowing your car in and out of the garage, and it's never a good thing when the door doesn't work the way it's supposed to. One of the most common problems occurs with garage door springs. They are a key factor in opening the door, and once broken, they need to be replaced.
How can garage door springs break?
The expected life of garage door springs is about 7-9 years for an average user, who uses the door 4 times a day. In some cases, however, people who use their garage door as the front door increase the daily cycles, which means the springs may only last for 4-6 years. If springs are obtained from a reputable company and have a warranty, you shouldn't worry about them breaking any sooner than that. During the first two years of usage, springs need to be rebalanced to ensure the proper functioning and balance of the door. Attempting to repair garage door springs on your own may result in a serious injury or worse, and springs that are not working properly may cause harm to other parts of the garage door system. Always call a professional to handle the problem.
How can we help?
Speaking of professionals, you're come to the right place. Our technicians are skilled experts and able to handle any problem your garage door might have. What's even better is that we can take care of the problem the same day we arrive at your home. A broken garage door spring is only one of many problems our technicians can handle. We repair and fix openers, hinges, and rollers. Our services also cover the basic maintenance of the door. As soon as we schedule an appointment, our team will work on the problem whether it's a broken spring, opener, or any other part of the door! In case you want a completely new door installed, we've got you covered, so make sure to give us a call.
Contact us
Our team has handled numerous situations without a single problem. Contacts us today and schedule our service. We guarantee a service that is fast and professional! Call now!
Let our team take care of it for you!

Noisy Doors Silenced

Oil Tempered Torsion Springs

Garage Door Tune Up Services

LiftMaster Garage Door Openers