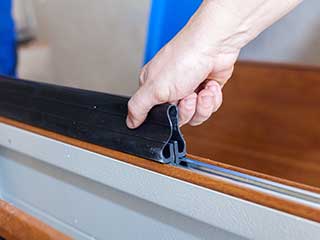 Stop wondering whether to get insulated garage doors and start counting the benefits! The truth is that most people consider that insulation is needed only for houses in cold climates. That's certainly a false assumption. Insulated doors control all temperatures and they're ideal for all climates. After all, they work in two ways: they don't allow the indoor warm or cool temperatures to exit the premises and so you save a lot of energy and, of course, money. At the same time, they don't allow the entrance of cold or hot air drafts and the indoor temperature remains ideal.
Of course, such ideal conditions are possible with the installation of weather seals as well. What's the point of getting an expensive insulated overhead door only to see energy being compromised and escaping from the little gaps between the door and the jamb? The top, side and bottom seal will play an equally important role to the good insulation of the house as much as the right r-value of the door. The good news is that insulated doors offer more than temperature control; they offer an overall control of the garage area.
The extra benefits of insulated panels
Apart from the good insulation of the garage, the greatest advantage of insulated doors is the good insulation of the whole house. When the garage is attached to the house, the adjacent rooms will have good temperatures as well. With the right r-value, seals and aluminum frames the insulation will be great. What's even better is that you will start paying less for energy consumption. You'll have full control over what you consume for cooling down or heating the place and that's very important.
You won't only have thermal insulation but you'll make the property sound-proof. Do you need peace and quiet in your office right above the garage? Are your kids too loud in the yard and at the same time you are working in the garage? The noise will hardly bother you since insulated panels will make a difference. Of course, it's also excellent news that all materials can be insulated. There will be fluctuations as to what extent each material can be insulated but it's good to know that even glass doors can be insulated.
Your garage doors will be stronger, too. The insulation materials are placed in between panels and so you will have at least two layers of steel or any other material. After all, it's different having one panel doors and double layered doors.