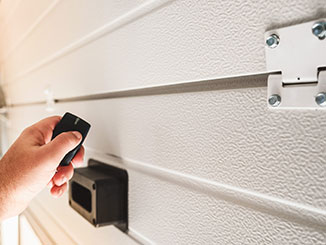 Recognizing Spring Problems
Most modern garage door parts are made of galvanized steel which is resistant to rust and corrosion. At the same time, they work intensively and are subject to a high level of wearing. These factors can cause trouble when you least expect it. When the door is difficult to open or to keep closed, the torsion spring has either too little or too much force. This issue can result from inaccurate adjustment or changes in the weight of the door. Readjusting it will help solving the problem. When you hear scraping sounds, you should check the lift cables for fraying. Frayed cables need to be replaced as soon as possible. If you have an extension spring system, the noise could be caused by worn pulley or pulleys. Timely replacement will eliminate the problem.
Identifying Issues with Tracks and Rollers
Track obstruction is a common problem causing the door to get jammed and reverse. Removing the blockage is an easy task. When the track is bent, however, it will require careful repair with the use of a safe straightening technique. It is easy to tell when the rollers, which move along the track are worn. You will hear strange popping sounds which can be quite annoying. If the hinges which keep the roller stems in place are worn, the door will make squeaky sounds and may even shake. If the cylinders which house the stems are oblong rather than round, the hinges are greatly worn and should be replaced without delay.